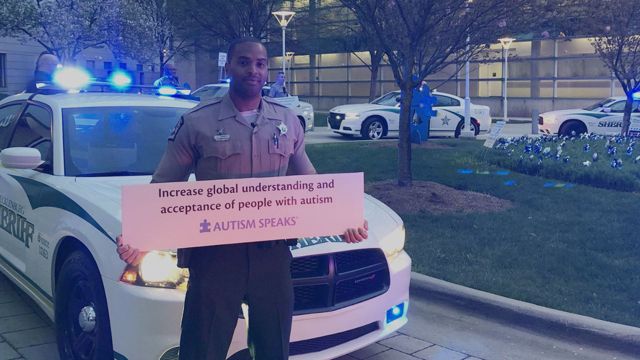 CHARLOTTE, N.C. — You may have noticed a bit more blue Monday. That's because April 2 is World Autism Awareness Day.
"It's really what this day is about, awareness and acceptance," says Major Dan Johnson, with the Mecklenburg County Sheriff's Office.
The office joins the hundreds of thousands of events that Light It Up Blue kicked off for Autism Awareness Month.
"Just seeing the blue lights and seeing the support of the local community is huge for the autism community", says Lauren Kidder, director of field development with the Carolina Autism Speaks​ Chapter.
It's a way to shed light and understanding on the disorder affecting 70 million people around the world and nearby.
Major Johnson helped organize the event. He's a 20-year veteran of the force and works with the local Autism Speaks chapter.
"Most importantly – I'm a dad of someone who's diagnosed on the spectrum," Johnson says.
​His son, Tyler, is now a 10th grader at Union County High School. Johnson says it hasn't always been easy.
Read More at spectrumlocalnews.com
Image credit spectrumlocalnews.com